Shade may be different due to screen resolution
Pink Aloe Vera Pore Tightening Toner
Soothing, Hydrating, Smoothening Toner
Active Offers
Add any 3 in cart & Get 1 Free
Size and color of GWP may vary. GWP will be removed if the cart value goes below the threshold
Free 6 in 1 blender on orders above Rs. 799
Free 6 in 1 Blender + 5 in 1 Brush Set + Trousseau on orders above Rs. 1999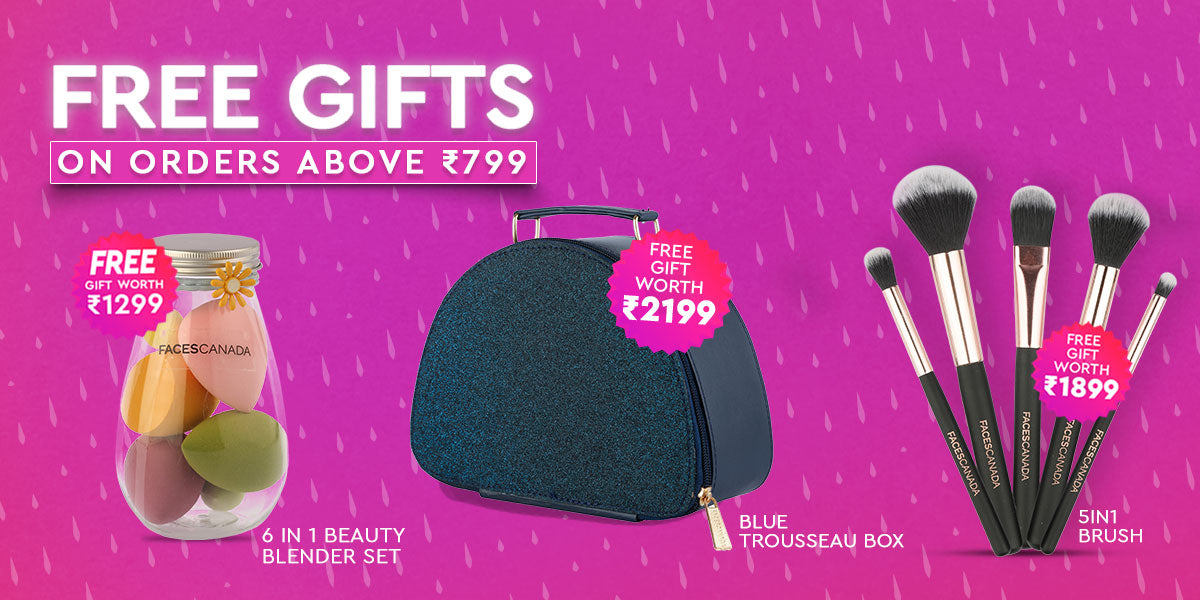 Low stock - 218 items left
Details
Powered with the exotic goodness of Rosemary, Chamomile, Green Tea and Cucumber extracts, presenting a revolutionary toner that is bound to rule your skin-care regime. The FACESCANADA Pink Aloe Vera Pore Tightening Toner is formulated with the efficacious combination of Hyaluronic acid that deeply hydrates the skin and Allantoin that combats signs of aging.

Pink Aloe Vera is a gift of nature that brings immense soothing nourishment to the skin along with keeping skin hydrated. This toner gently and deeply nourishes the skin, making it healthy, supple and glowing from within.

Let your skin smile, as the gel fights any and every sign of bacterial presence. The toner is so gentle on the skin that your skin will feel baby soft with the pore-tightening action involved. It calms the skin and prepares it for all the challenges it has to face externally.

Own this power-packed toner and change your skin's health to a more robust and hydrated one.
1. Potent Hydration: Pink Aloe Vera is a magical ingredient for dry, dull and nutrient-deprived skin. The FACESCANADA Pink Aloe Vera Pore Tightening Toner gifts skin with the hydration it needs and deserves.
2. Anti-bacterial: Pink Aloe Vera combats all kinds of bacterial presence with a supreme efficacy. The toner keeps your skin clean and free from any filth that can harm it.
3. Power of exotic natural extracts: Rosemary in the formula is a soldier against bacterial infections, Chamomile is a soldier to signs of ageing and dull skin, Green Tea soothes the skin and prevents irritation and Cucumber cools the skin, alleviates sunburns and hydrates deeply.
4. Tightens Pores: Our Pink Aloe Vera toner is your skin's best frined! This Vegan toner is free from Parabens and Alcohol. It gently works to tighten the pores and give you the young, beautiful, fresh and healthy skin you were always dreaming of.
1. Gently sweep the FACES CANADA Pink Aloe Vera Pore Tightening Toner with a cotton pad all over your face, twice a day after cleansing
2. For best results, use with FACES Pink Aloe Ultra Hydrating Face Wash
Purified Aqua, Glycerin, Polysorbate 20, Phenoxyethanol, Niacinamide, Hyaluronic Acid, Allantoin, Sodium Benzoate, Potassium Sorbate, Moringa Oleifera (Sahjan) Extract, Cucumis Sativus (Cucumber) Fruit Extract, Camellia Sinensis (Green Tea) Extract, Aloe Barbadensis Leaf Extract, Disodium EDTA, Rosmarinus Officinalis (Rosemary) Extract, Calendula Officilanis Extract, Chamomilla Recutita (Chamomile) Flower Extract, Mentha Piperita (Peppermint) Extract, Sodium Lactate, Aloe Vera Extract (Aloe Vera Freeze Dried Powder), Colour (CI 17200), Fragrance
Name & Address of Manufacturer: Faces Canada
Country of Origin:India
Net Qty. (g/ml): 100 gm
Free Product with Purchase
This offer is eligible only for sitewide discounts. It cannot be clubbed with Kits & Combos etc
Your order is only eligible for a free product with purchase on a minimum stated order (post-discount) while stocks last
The free product offer will pop-up on your cart page. Please add to cart when offer is presented. If the free product is not reflected in your cart then it has not been added to your order
Your order is only eligible for  one free gift per order (whichever is the larger gift offer)
Different free products will be available to you based on order value

Free Gift with Purchase
This offer is eligible only for sitewide discounts. It cannot be clubbed with any other coupon codes from Gpay/PhonePe/Paytm, etc
Your order is only eligible for a free gift with purchase on a minimum stated order value (post-discount)
The free gift offer will pop-up on your cart page. Please add to cart when offer is presented. If the free gift is not reflected in your cart then it has not been added to your order
This offer is valid only while stocks last
Rs.400 Off on your first purchase
This offer cannot be clubbed with any other offer or discount
The offer is valid on all products
The discount will be applied only on using the coupon code 'HELLO'
The discount is valid on a minimum order value of Rs.1299
The discount is valid on first purchase only
No questions asked returns
This is valid only if it is explicitly mentioned on the product page
Valid if return request is raised within 48 hrs of purchase
Company reserves all rights to withdraw any ongoing offer and/or promotion without prior notice
Cash on delivery available for 22k+ pincodes
Hassle free returns within 48hrs
Usually ships within 1-2 business days
100% Original Products