Shade may be different due to screen resolution
Banana Compact Powder
All-Day Radiant, Flawless Skin
Active Offers
Add any 3 in cart & Get 1 Free
Size and color of GWP may vary. GWP will be removed if the cart value goes below the threshold
Free 6 in 1 blender on orders above Rs. 799
Free 6 in 1 Blender + 5 in 1 Brush Set + Trousseau on orders above Rs. 1999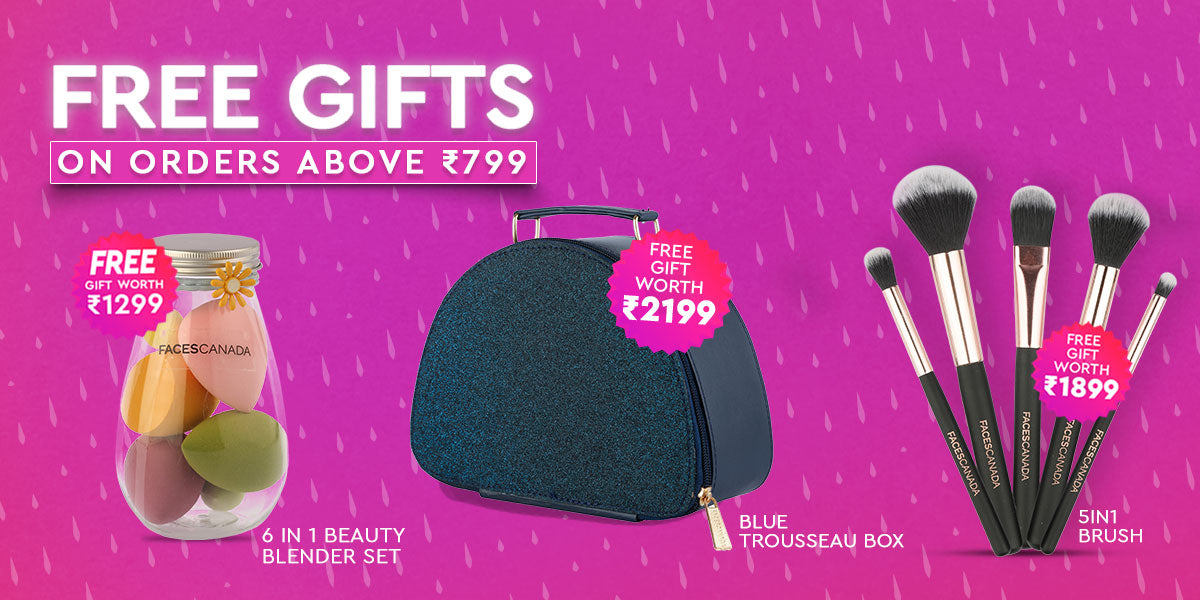 Details
A universal shade of complexion enhancer for the perfect finishing, FACESCANADA Banana Powder!

This extremely lightweight and transparent textured Banana Powder is formulated to enliven your skin tone and give your skin a soft-matte finish that will make you go bananas! The yellow-toned powder livens dull skin, helps set make-up, and gives you a warm glow that keeps you looking stunningly fresh throughout the day!

Enriched with the potent antioxidant, Vitamin C, the banana powder not only brightens up the complexion but also protects the skin against skin damage caused by sun exposure and harmful free radicals.

To top it up, Shea butter helps the powder melt effortlessly into the skin, moisturizes, nourishes and gives around-the-clock protection against the harmful UVA and UVB sun rays.

Now looking gorgeous with naturally radiant skin is no more a dream. FACESCANADA Banana Powder gives that perfect natural HD finish and blurs fine lines if used stand alone, and can also be used to lock your makeup in place. The silky, powder gives an 8-hour oil control for an anti-shine effect all day long!

Enjoy your beauty routines with this Paraben-free, Mineral-oil free and Vegan Banana Powder.
1. Soft-Matte HD Finish: FACESCANADA Banana Powder is super lightweight and has a buttery soft texture that lets the powder magically melt onto your skin. Enjoy the soft-matte natural HD Finish look with this super powder.
2. 8HR Oil Control: FACESCANADA Banana Powder offers 8 hours of oil control so that your skin can look super fresh throughout wear. Enjoy the anti-shine effect as you powder yourself up with this Banana Powder.
3. Super Ingredients: FACESCANADA Banana Powder is enriched with Vitamin C which is a powerful antioxidant. It nourishes the skin, makes it radiant and helps fight any plausible sun damage. Shea Butter adds to the hydration and sun protection. It protects the skin from the harmful; UVA and UVB rays and helps the powder effortlessly melt into the skin.
4. Flawless Glow: FACESCANADA has carefully curated this powder to blur all fine lines and even out the skin tone. This helps bring out the beautiful diva in you.
5. No Nasties: The powder is Paraben-free, Mineral Oil-free and Vegan.
FACESCANADA Banana Powder can be used alone or on top of the makeup.
1. Pat it on generously over makeup and set for 2 or more minutes.
2. Dust the powder all over your face for a soft matte look.
3. For a perfect finish - set your makeup with the hydrating FACESCANA Ultime Pro Makeup Fixer.
Name & Address of Manufacturer: Faces Canada
Country of Origin: India
Net Qty.: 9 gm
Free Product with Purchase
This offer is eligible only for sitewide discounts. It cannot be clubbed with Kits & Combos etc
Your order is only eligible for a free product with purchase on a minimum stated order (post-discount) while stocks last
The free product offer will pop-up on your cart page. Please add to cart when offer is presented. If the free product is not reflected in your cart then it has not been added to your order
Your order is only eligible for  one free gift per order (whichever is the larger gift offer)
Different free products will be available to you based on order value

Free Gift with Purchase
This offer is eligible only for sitewide discounts. It cannot be clubbed with any other coupon codes from Gpay/PhonePe/Paytm, etc
Your order is only eligible for a free gift with purchase on a minimum stated order value (post-discount)
The free gift offer will pop-up on your cart page. Please add to cart when offer is presented. If the free gift is not reflected in your cart then it has not been added to your order
This offer is valid only while stocks last
Rs.400 Off on your first purchase
This offer cannot be clubbed with any other offer or discount
The offer is valid on all products
The discount will be applied only on using the coupon code 'HELLO'
The discount is valid on a minimum order value of Rs.1299
The discount is valid on first purchase only
No questions asked returns
This is valid only if it is explicitly mentioned on the product page
Valid if return request is raised within 48 hrs of purchase
Company reserves all rights to withdraw any ongoing offer and/or promotion without prior notice
Cash on delivery available for 22k+ pincodes
Hassle free returns within 48hrs
Usually ships within 1-2 business days
100% Original Products