Shade may be different due to screen resolution
Bright & Shine Nail Coat
Your Multitasking Base Coat
Active Offers
Add any 3 in cart & Get 1 Free
Size and color of GWP may vary. GWP will be removed if the cart value goes below the threshold
Free 6 in 1 blender on orders above Rs. 799
Free 6 in 1 Blender + 5 in 1 Brush Set + Trousseau on orders above Rs. 1999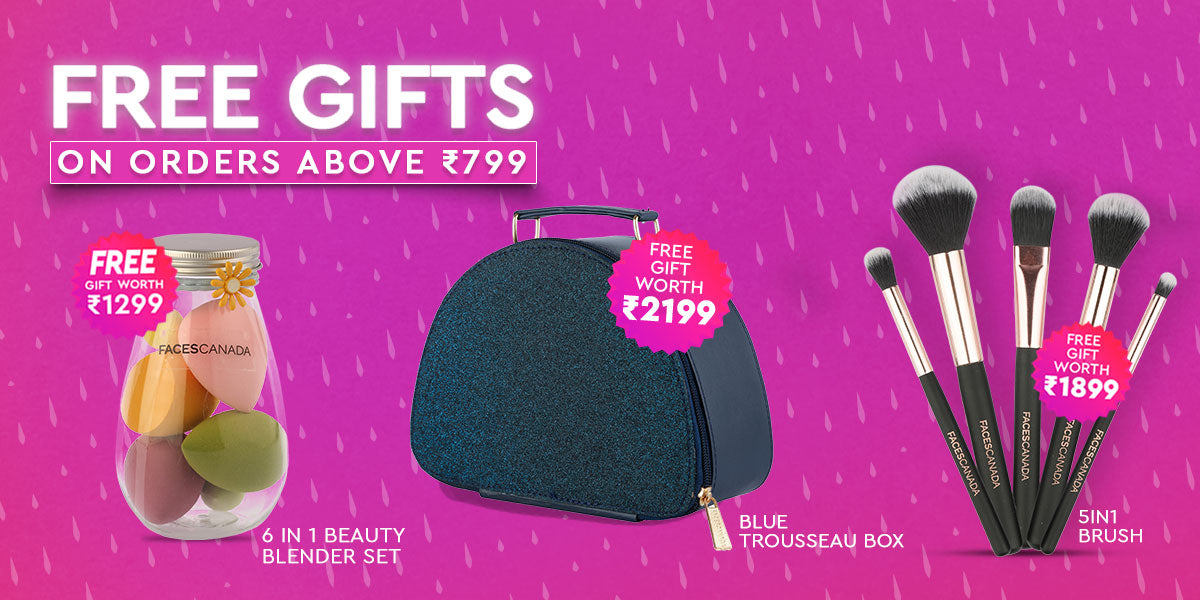 Low stock - 250 items left
Details
Introducing FACES CANADA Bright & Shine Nail Coat, the perfect solution for protecting your nails from all sorts of external damage! Stronger, smoother, and shinier nails are not a faraway dream anymore. This groundbreaking formula brightens dull nails. Get ready for your nails to get the dream luster and a healthy pink glow. It removes discoloration and gets rid of yellow nail beds.
Enriched with a unique blend of active ingredients this nail coat is one in a million. Camellia oil nourishes the cuticles and nails intensely and helps alleviate any discomfort. To strengthen the nails further we have added a healthy dose of calcium to the Nail Coat. Lastly, the optical blurring agent helps the nails look visually brighter and flawless.
Live your dream of perfect nails by adding the cruelty-free FACES CANADA Bright & Shine Nail Coat to your vanity.
1. Make 'em Shine: As the name suggests the FACES CANADA Bright & Shine Nail Coat gives the nails an unbeatable sheen that will make all eyes turn on you.
2. Camellia Oil: We often tend to forget to give adequate nourishment to our cuticles and nails. This unique nail coat is here to bridge the gap. Camellia oil deeply nourishes and brightens nails and soothes all types of discomfot.
3. Unique Actives: Bright nails are Gorgeous nails. Veg Keratin promotes healthy nails that shine. The coat helps get rid of discoloration.
4. No Wear and Tear: Our nails suffer a lot of wear and tear from external factors. It is important to protect them. FACES CANADA Bright & Shine Nail Coat ensures your nails are protected from all sorts of damage.
5. No Nasties: FACES CANADA Bright & Shine Nail Coat contains only all Good For You constituents. It is Cruelty-free and hence the perfect choice for your Nail Care vanity.

1. Apply one coat of FACES CANADA Bright & Shine Nail Coat before applying Nail Enamel.
2. Apply another coat after applying Nail Enamel.
ETHYL ACETATE, NITROCELLULOSE, BUTYL ACETATE, ACRYLATES COPOLYMER, ACETYL TRIBUTYL CITRATE, ISOPROPYL ALCOHOL, DIPROPYLENE GLYCOL DIBENZOATE, CI 17200, BIS(T-BUTYL BENZOXAZOLYL) THIOPHENE, MALTOL, AQUA, CAMELLIA OLEIFERA SEED OIL, CALCIUM PANTOTHENATE, SOY AMINO ACIDS, WHEAT AMINO ACIDS, SERINE, ARGININE HCL, THREONINE, CI 26100, TOCOPHEROL, POTASSIUM SORBATE
BENZYL ALCOHOL, SODIUM BENZOATE
Product Info
Name & Address of Manufacturer: Faces Canada
Country of Origin:India
Net Qty. (g/ml): 5 gm
Free Product with Purchase
This offer is eligible only for sitewide discounts. It cannot be clubbed with Kits & Combos etc
Your order is only eligible for a free product with purchase on a minimum stated order (post-discount) while stocks last
The free product offer will pop-up on your cart page. Please add to cart when offer is presented. If the free product is not reflected in your cart then it has not been added to your order
Your order is only eligible for  one free gift per order (whichever is the larger gift offer)
Different free products will be available to you based on order value

Free Gift with Purchase
This offer is eligible only for sitewide discounts. It cannot be clubbed with any other coupon codes from Gpay/PhonePe/Paytm, etc
Your order is only eligible for a free gift with purchase on a minimum stated order value (post-discount)
The free gift offer will pop-up on your cart page. Please add to cart when offer is presented. If the free gift is not reflected in your cart then it has not been added to your order
This offer is valid only while stocks last
Rs.400 Off on your first purchase
This offer cannot be clubbed with any other offer or discount
The offer is valid on all products
The discount will be applied only on using the coupon code 'HELLO'
The discount is valid on a minimum order value of Rs.1299
The discount is valid on first purchase only
No questions asked returns
This is valid only if it is explicitly mentioned on the product page
Valid if return request is raised within 48 hrs of purchase
Company reserves all rights to withdraw any ongoing offer and/or promotion without prior notice
Cash on delivery available for 22k+ pincodes
Hassle free returns within 48hrs
Usually ships within 1-2 business days
100% Original Products