Shade may be different due to screen resolution
Matte Primer
Hydrated Oil-Free Matte Finish
Active Offers
Add any 3 in cart & Get 1 Free
Size and color of GWP may vary. GWP will be removed if the cart value goes below the threshold
Free 6 in 1 blender on orders above Rs. 799
Free 6 in 1 Blender + 5 in 1 Brush Set + Trousseau on orders above Rs. 1999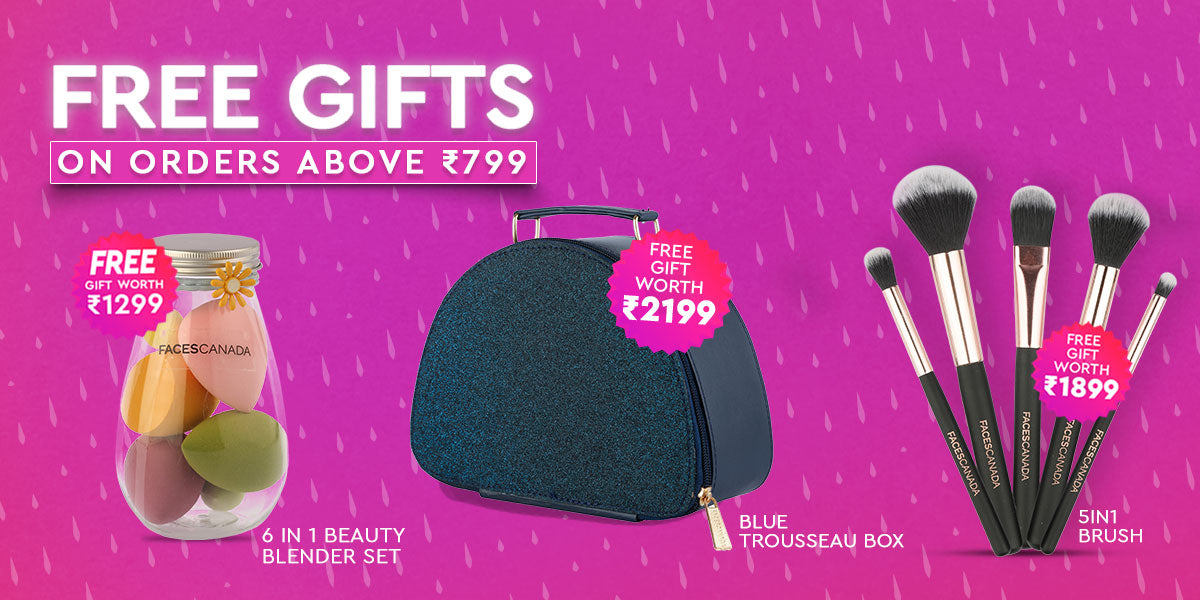 Low stock - 50 items left
Details
Hey there, makeup lovers! Are you ready to take your makeup game to the next level? Introducing the FACES CANADA Matte Primer, the secret weapon for a flawless makeup look with the goodness of natural ingredients.

The FACES CANADA Matte Primer is here to be your trusty sidekick, providing you with instant flawlessly smooth skin that will make heads turn!

Not only does it give you a flawless oil-free matte finish, but it also has a lightweight and nonsticky texture that feels like a dream on your skin. Say goodbye to heavy, cakey textures and hello to weightless and comfortable perfection!

What makes this primer extra special is its unique matte formula with its translucent gel texture. Say goodbye to any excess shine and hello to a flawlessly matte canvas that's ready for some serious makeup action!

With the power of hyaluronic acid, it keeps your skin hydrated while Niacinamide swoops in to control excessive sebum and minimize large pores.

But that's not all - this primer also contains Aloe Vera which is a powerhouse of Vitamins A, C, and E, which work their magic to soothe and hydrate your skin. And here's the cherry on top—corn starch, the ultimate "Oil Magnet." This incredible ingredient absorbs excess oil from your skin, banishing those acne and pimple-causing culprits. Hello, clear and shine-free complexion!

We've ditched parabens, mineral oil, and alcohol. Also, this primer is vegan and cruelty-free. We believe in giving your skin the best without any unnecessary harsh ingredients.

So, are you ready to unlock the power of our FACES CANADA Matte Primer? Say hello to flawless, matte perfection that's lightweight, comfortable, and full of skin-loving ingredients. Get ready to slay the day with confidence and rock that flawless matte look like a boss!
1. Innovative Formula: FACESCANADA Prime has a nonsticky, lightweight feel that glides on smoothly, making it a dream to apply.
2. Benefits: The Matte Primer has an oil-free mattifying effect and is enriched with hyaluronic acid and Aloe Vera which keeps your skin hydrated while Niacinamide controls excessive sebum production and minimizes large pores.
3. Ingredients: This Primer is also packed with Vitamins A, C, and E which soothe and hydrate your skin. And cornstarch absorbs excess oil from your skin, preventing acne and pimples.
4. Suitable for Oily skin type: The Matte Primer is a very lightweight product and Mineral Oil free which makes it ideal for daily wear.
5. No Nasties: The FACES CANADA Primer is Vegan, Cruelty-Free, Alcohol-Free, and Paraben-free making it a perfect choice for you.
1. Take a pea-sized amount of primer.
2. On a clean face, apply the primer evenly. Target areas, such as the T-zone and cheeks.
3. Gently blend it into your skin using your fingertips or a brush.
4. Allow the primer to set for a few moments.
5. Proceed with your regular makeup application.
Aqua, Cyclopentasiloxane, Dimethicone/Vinyl Dimethicone Crosspolymer, Niacinamide, Poloxamer 338 (and) PPG-51/SMDI Copolymer, Zea mays (corn)starch, Polyvinyl alcohol, Glycerin,
Phenoxyethanol, Ethyl hexyl glycerin, Aloe barbadensis, Acrylates/C10-30 Alkyl Acrylate Crosspolymer, Triethanolamine, Disodium Ethylenediaminetetraacetate, Fragrance.
Name & Address of Manufacturer: Faces Canada
Country of Origin: India
Net Qty. (g/ml):30 gm
Free Product with Purchase
This offer is eligible only for sitewide discounts. It cannot be clubbed with Kits & Combos etc
Your order is only eligible for a free product with purchase on a minimum stated order (post-discount) while stocks last
The free product offer will pop-up on your cart page. Please add to cart when offer is presented. If the free product is not reflected in your cart then it has not been added to your order
Your order is only eligible for  one free gift per order (whichever is the larger gift offer)
Different free products will be available to you based on order value

Free Gift with Purchase
This offer is eligible only for sitewide discounts. It cannot be clubbed with any other coupon codes from Gpay/PhonePe/Paytm, etc
Your order is only eligible for a free gift with purchase on a minimum stated order value (post-discount)
The free gift offer will pop-up on your cart page. Please add to cart when offer is presented. If the free gift is not reflected in your cart then it has not been added to your order
This offer is valid only while stocks last
Rs.400 Off on your first purchase
This offer cannot be clubbed with any other offer or discount
The offer is valid on all products
The discount will be applied only on using the coupon code 'HELLO'
The discount is valid on a minimum order value of Rs.1299
The discount is valid on first purchase only
No questions asked returns
This is valid only if it is explicitly mentioned on the product page
Valid if return request is raised within 48 hrs of purchase
Company reserves all rights to withdraw any ongoing offer and/or promotion without prior notice
Cash on delivery available for 22k+ pincodes
Hassle free returns within 48hrs
Usually ships within 1-2 business days
100% Original Products