Shade may be different due to screen resolution
Sunscreen Gel
Unique Non-Sticky Formula
Active Offers
Add any 3 in cart & Get 1 Free
Size and color of GWP may vary. GWP will be removed if the cart value goes below the threshold
Free 6 in 1 blender on orders above Rs. 799
Free 6 in 1 Blender + 5 in 1 Brush Set + Trousseau on orders above Rs. 1999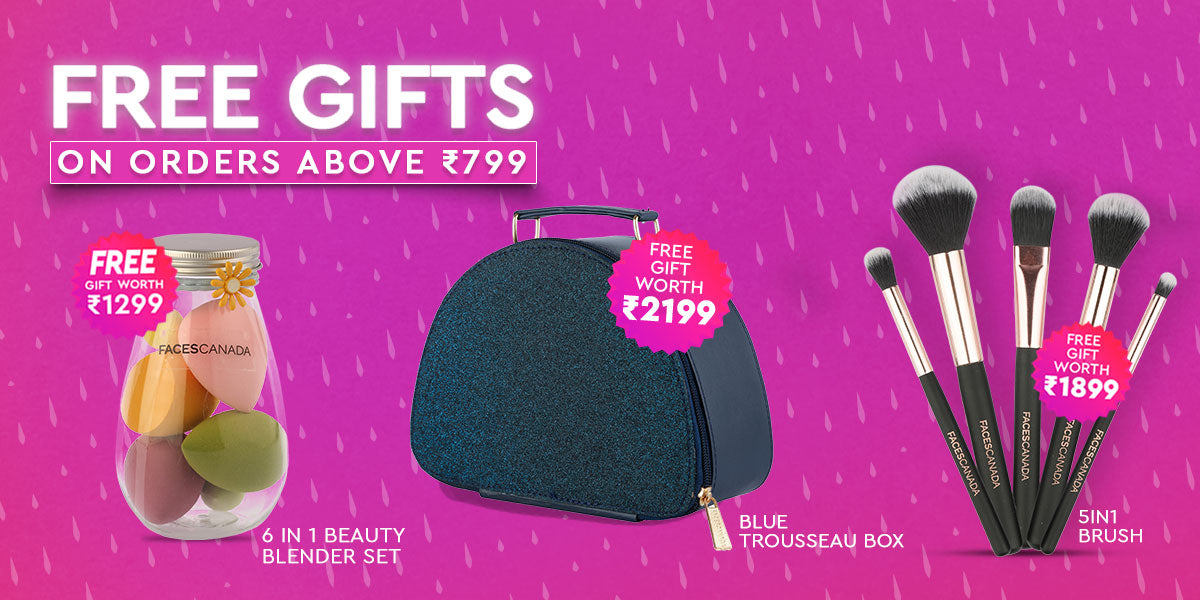 Low stock - 194 items left
Details
Introducing FACES CANADA Water Gel Sunscreen, the perfect ally in your quest for sun protection and healthy skin. This incredible formula offers SPF 50 and PA+++ to shield you from both UVA and UVB rays, ensuring broad-spectrum defence.

Enriched with 1% Hyaluronic Acid, this Water Gel Sunscreen locks in moisture, keeping your skin hydrated and plump. Plus, the added Vitamin C acts as an antioxidant, helping your skin fight against UV damage and giving it a radiant glow.

But that's not all. Our Water Gel Sunscreen goes beyond sun protection. It also guards against blue light and pollution, which can harm your skin. With Liposheild, a powerful ingredient, it acts as a shield against blue & white light, preventing premature ageing due to UV rays and keeping your skin looking youthful. Aloe Vera Extract provides an extra boost of hydration, leaving your skin feeling refreshed and revitalized. Also, Allantoin offers protection against hyperpigmentation, ensuring your skin stays even-toned and blemish-free.

What sets our Water Gel Sunscreen apart is its ultra-lightweight texture. Say goodbye to heavy, greasy sunscreens! Our gel-based formulation feels weightless on your skin and leaves no white cast behind. It's specifically formulated for combination to oily skin. If you struggle with excess oil or shine, this sunscreen will be your new best friend.

Our cruelty-free Water Gel Sunscreen does not contain parabens and alcohol, making it gentle and safe for your skin.

With our Water Gel Sunscreen, you can embrace the outdoors without compromising on protection or comfort. Experience the lightweight, non-greasy texture and enjoy the peace of mind knowing your skin is shielded from the sun's harmful rays.
1. Innovative formula: contains 1% Hyaluronic Acid and Vitamin C which help lock in moisture and give your skin a natural, radiant glow.
2. Ingredients: The Water Gel Sunscreen contains Liposheild which protects against blue & white light and prevents premature ageing, Aloe Vera Extract for hydration, and Allantoin for protection against hyperpigmentation.
3. Benefits: The Water Gel Sunscreen provides broad-spectrum defense, safeguarding your skin from harmful blue light, UVA &UVB rays, and ensuring effortless application without leaving any white residue. It is also anti-pollution.
4. Skin type: Suitable for all skin types but ideally formulated for combination to oily skin
5. No Nasties: The water gel sunscreen is Cruelty-free, Alcohol-free, and Paraben-free making it a perfect choice for you.

1. Apply the FACES CANADA Water Gel Sunscreenon a clean face, neck and exposed area.
2. Pat lightly and let it get absorbed.
3. Reapply every 6 hours for best results.
DM Water, Titanium Dioxide, Water (and) Ethylhexyl Methoxycinnamate (and) Butyl Methoxydibenzoylmethane (and) Benzophenone-3 (and) Phospholipids (and) 1,3-Butylene Glycol, Glycerin, Trehalose, Thermus thermophilis Extract, Ethyl Ascorbic Acid, Phenoxyethanol, Hyaluronic Acid, Carbomer 940, Aloe barbadensis (Aloe) Leaf Juice, Sodium Lactate, Benzyl Alcohol, Glyceryl Laurate, Allantoin, Sodium Gluconate, Liposheild HEV Melanin
Name & Address of Manufacturer: Faces Canada 
Country of Origin:India
Net Qty. (g/ml): 50  gm
Free Product with Purchase
This offer is eligible only for sitewide discounts. It cannot be clubbed with Kits & Combos etc
Your order is only eligible for a free product with purchase on a minimum stated order (post-discount) while stocks last
The free product offer will pop-up on your cart page. Please add to cart when offer is presented. If the free product is not reflected in your cart then it has not been added to your order
Your order is only eligible for  one free gift per order (whichever is the larger gift offer)
Different free products will be available to you based on order value

Free Gift with Purchase
This offer is eligible only for sitewide discounts. It cannot be clubbed with any other coupon codes from Gpay/PhonePe/Paytm, etc
Your order is only eligible for a free gift with purchase on a minimum stated order value (post-discount)
The free gift offer will pop-up on your cart page. Please add to cart when offer is presented. If the free gift is not reflected in your cart then it has not been added to your order
This offer is valid only while stocks last
Rs.400 Off on your first purchase
This offer cannot be clubbed with any other offer or discount
The offer is valid on all products
The discount will be applied only on using the coupon code 'HELLO'
The discount is valid on a minimum order value of Rs.1299
The discount is valid on first purchase only
No questions asked returns
This is valid only if it is explicitly mentioned on the product page
Valid if return request is raised within 48 hrs of purchase
Company reserves all rights to withdraw any ongoing offer and/or promotion without prior notice
Cash on delivery available for 22k+ pincodes
Hassle free returns within 48hrs
Usually ships within 1-2 business days
100% Original Products