Shade may be different due to screen resolution
Fresh Clean Glow Makeup Remover Wipes
Gentle purifying wipes
Active Offers
Add any 3 in cart & Get 1 Free
Size and color of GWP may vary. GWP will be removed if the cart value goes below the threshold
Free 6 in 1 blender on orders above Rs. 799
Free 6 in 1 Blender + 5 in 1 Brush Set + Trousseau on orders above Rs. 1999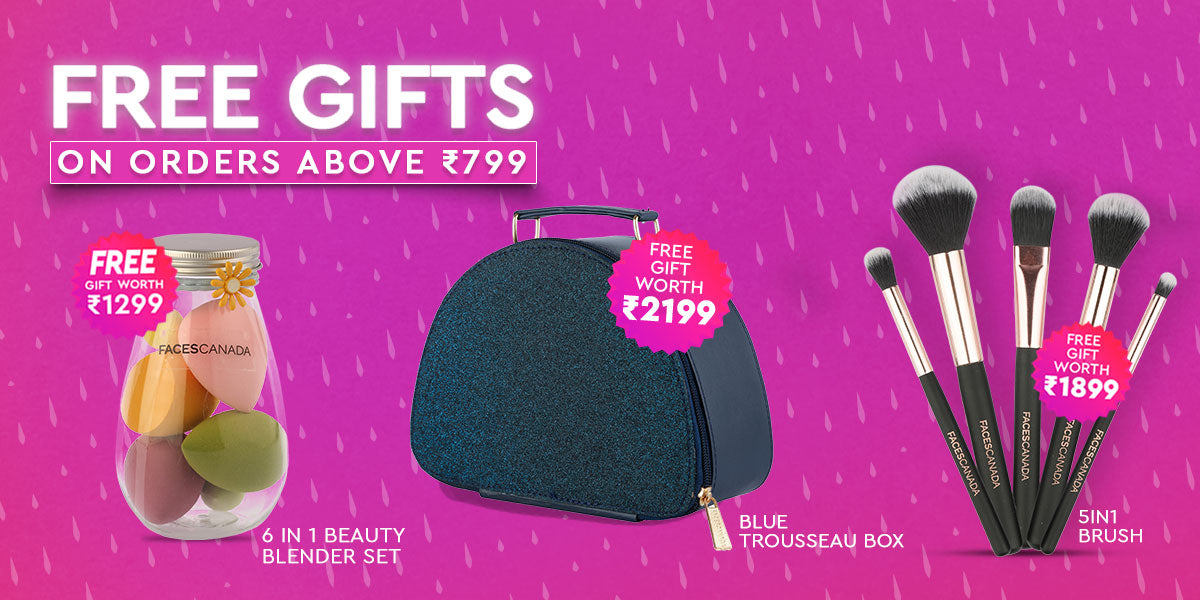 Customer Review Highlights
Best wipes so far!
These wipes are so smooth and gentle on the skin. I've used almost every other brand out there, but this one outstands the rest. It smells great too! You need to get your hands on this product.
Details
Gently sweep away even the most stubborn makeup with these makeup remover wipes. These ultra soft, pre-moistened wipes remove all traces of makeup, dirt and oil, giving a hydrated and moisturised feel to the skin. They also removes waterproof makeup effectively and leave no residue behind. These no-rinse, disposable wipes remove pore-clogging impurities thoroughly and leave skin smooth, instantly glowing and naturally clean. Perfect for on-the-go use!
Benefits
1 Hassle-free instant makeup cleansing.
2 Removes waterproof makeup, mascara and glitters easily.
3 Zero burning sensation, suitable for sensitive skin.
4 Thicker durable wipes.
5 Balanced pH Formulation that keeps overall skins natural moisture balance
6 Packed in a convenient flip-top packing that doesnt let wipes dry out
7 30 usable wipes
Ingredients
Aqua, DC 3021, DC 556, Propylene Glycol, Di Propylene Glycol, Fragrance, Glycerin, Ethyl Hexyl Glycerine & Phenoxy ethanol, Triethylene Glycol, Hexylene Glycol, Aloe Vera Extract, Disodium Cocoampho Diacetate, Polysorbate 20, Disodium EDTA, Peg - 40 Hydrogenated Castor Oil, Chamomile Extract, Cornflower Extract, Lactic Acid/TEA
Product Info
Name & Address of Manufacturer:Ginni Filaments Ltd., D-38 Baharabad Industrial Area , Haridwar -249403, Uttrakhand,India.
Country of Origin:India
Net Qty. (g/ml):100
Ingredient List
Aqua, DC 3021, DC 556, Propylene Glycol, Di Propylene Glycol, Fragrance, Glycerin, Ethyl Hexyl Glycerine & Phenoxy ethanol, Triethylene Glycol, Hexylene Glycol, Aloe Vera Extract, Disodium Cocoampho Diacetate, Polysorbate 20, Disodium EDTA, Peg - 40 Hydrogenated Castor Oil, Chamomile Extract, Cornflower Extract, Lactic Acid/TEA
Free Product with Purchase
This offer is eligible only for sitewide discounts. It cannot be clubbed with Kits & Combos etc
Your order is only eligible for a free product with purchase on a minimum stated order (post-discount) while stocks last
The free product offer will pop-up on your cart page. Please add to cart when offer is presented. If the free product is not reflected in your cart then it has not been added to your order
Your order is only eligible for  one free gift per order (whichever is the larger gift offer)
Different free products will be available to you based on order value

Free Gift with Purchase
This offer is eligible only for sitewide discounts. It cannot be clubbed with any other coupon codes from Gpay/PhonePe/Paytm, etc
Your order is only eligible for a free gift with purchase on a minimum stated order value (post-discount)
The free gift offer will pop-up on your cart page. Please add to cart when offer is presented. If the free gift is not reflected in your cart then it has not been added to your order
This offer is valid only while stocks last
Rs.400 Off on your first purchase
This offer cannot be clubbed with any other offer or discount
The offer is valid on all products
The discount will be applied only on using the coupon code 'HELLO'
The discount is valid on a minimum order value of Rs.1299
The discount is valid on first purchase only
No questions asked returns
This is valid only if it is explicitly mentioned on the product page
Valid if return request is raised within 48 hrs of purchase
Company reserves all rights to withdraw any ongoing offer and/or promotion without prior notice
Cash on delivery available for 22k+ pincodes
Hassle free returns within 48hrs
Usually ships within 1-2 business days
100% Original Products