Shade may be different due to screen resolution
Pink Aloe Vera Overnight Replenish Gel
All-Night Hydration with Hyaluronic Acid
Active Offers
Add any 3 in cart & Get 1 Free
Size and color of GWP may vary. GWP will be removed if the cart value goes below the threshold
Free 6 in 1 blender on orders above Rs. 799
Free 6 in 1 Blender + 5 in 1 Brush Set + Trousseau on orders above Rs. 1999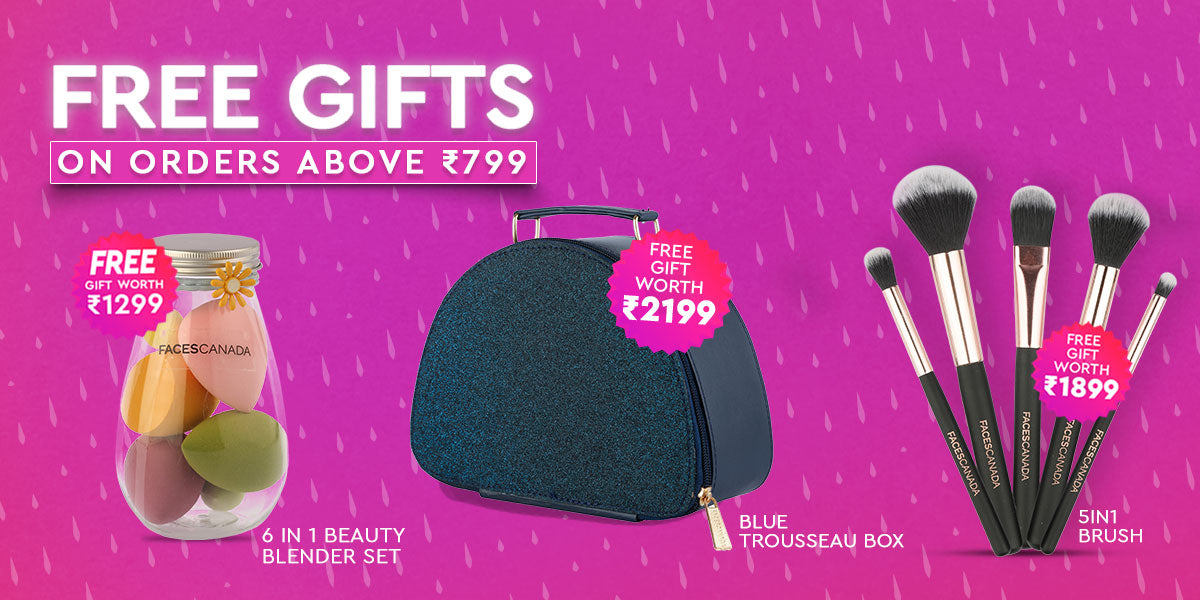 Low stock - 194 items left
Details
Let your skin heal overnight with the perfect FACESCANADA Pink Aloe Vera Overnight Replenish Gel. This lightweight gel creme arduously works overnight to boost the skin's hydration while you sleep.

Pink Aloe Vera, a South Korean beauty secret is a blessing in disguise for hydration. Without enough hydration, your skin is bound to look dull and age faster. FACESCANADA has combined the power of two multi-benefit hero ingredients, Hyaluronic Acid and Vitamin E. Hyaluronic Acid locks in essential moisture and hydrates the deepest layers of the skin. Vitamin E multiplies that hydration and tightens the skin.

Stop dreaming about that perfect, flawless, young glass skin as you are about to wake up to one. Wake up to supple, plump and radiant skin with this cruelty-free Vegan night gel creme.
1. Overnight Hydration: Most skin care products do well during the day. But our body heals itself substantially during the night. FACESCANADA Pink Aloe Vera Overnight Replenish Gel captures the critical night hours to boost the hydration levels of your skin multifold.
2. Hydration Heroes: Pink Aloe Vera, the South Korean Beauty Secret deeply hydrates the skin and nourishes it from within. Hyaluronic Acid in the night gel seeps down into the deepest layers of the skin while you are fast asleep and fights all the signs of ageing. Vitamin E supports the process by tightening the skin and making it looks plump and radiant when you wake up.
3. Glass Skin: This power-packed night gel works overnight to make your skin appear glass-like and flawless.
4. Safe for Skin: The serum gently nourishes the skin and is formulated with extreme care. It is completely Cruelty-free and Vegan.
1. Cleanse your skin using FACESCANADA Pink Aloe Vera Ultra Hydrating Face Wash.
2. After cleansing, apply FACESCANADA Pink Aloe Vera Overnight Replenish Gel in a gentle circular motion to your face and neck until fully absorbed.
Aqua, Undecane, Tridecane, Sodium Polyacrylate, Glycerin, Xylitylglucoside, Anhydroxylitol, Xylitol, Aloe Barbadensis Leaf Extract, Phenoxyethanol, Ethylhexylglycerin, Propylene Glycol, Disodium EDTA, Tocopheryl Acetate, Perfume, Aloe Barbadensis (Aloe Vera Juice Spray Dried Powder), Sodium Hyaluronate, CI 45410
Name & Address of Manufacturer: Faces Canada 
Country of Origin:India
Net Qty. (g/ml): 15 gm
Free Product with Purchase
This offer is eligible only for sitewide discounts. It cannot be clubbed with Kits & Combos etc
Your order is only eligible for a free product with purchase on a minimum stated order (post-discount) while stocks last
The free product offer will pop-up on your cart page. Please add to cart when offer is presented. If the free product is not reflected in your cart then it has not been added to your order
Your order is only eligible for  one free gift per order (whichever is the larger gift offer)
Different free products will be available to you based on order value

Free Gift with Purchase
This offer is eligible only for sitewide discounts. It cannot be clubbed with any other coupon codes from Gpay/PhonePe/Paytm, etc
Your order is only eligible for a free gift with purchase on a minimum stated order value (post-discount)
The free gift offer will pop-up on your cart page. Please add to cart when offer is presented. If the free gift is not reflected in your cart then it has not been added to your order
This offer is valid only while stocks last
Rs.400 Off on your first purchase
This offer cannot be clubbed with any other offer or discount
The offer is valid on all products
The discount will be applied only on using the coupon code 'HELLO'
The discount is valid on a minimum order value of Rs.1299
The discount is valid on first purchase only
No questions asked returns
This is valid only if it is explicitly mentioned on the product page
Valid if return request is raised within 48 hrs of purchase
Company reserves all rights to withdraw any ongoing offer and/or promotion without prior notice
Cash on delivery available for 22k+ pincodes
Hassle free returns within 48hrs
Usually ships within 1-2 business days
100% Original Products