Shade may be different due to screen resolution
Pink Aloe Vera Instant Hydration Face Serum
Unique Formulation for Healthy, Hydrated Skin
Active Offers
Add any 3 in cart & Get 1 Free
Size and color of GWP may vary. GWP will be removed if the cart value goes below the threshold
Free 6 in 1 blender on orders above Rs. 799
Free 6 in 1 Blender + 5 in 1 Brush Set + Trousseau on orders above Rs. 1999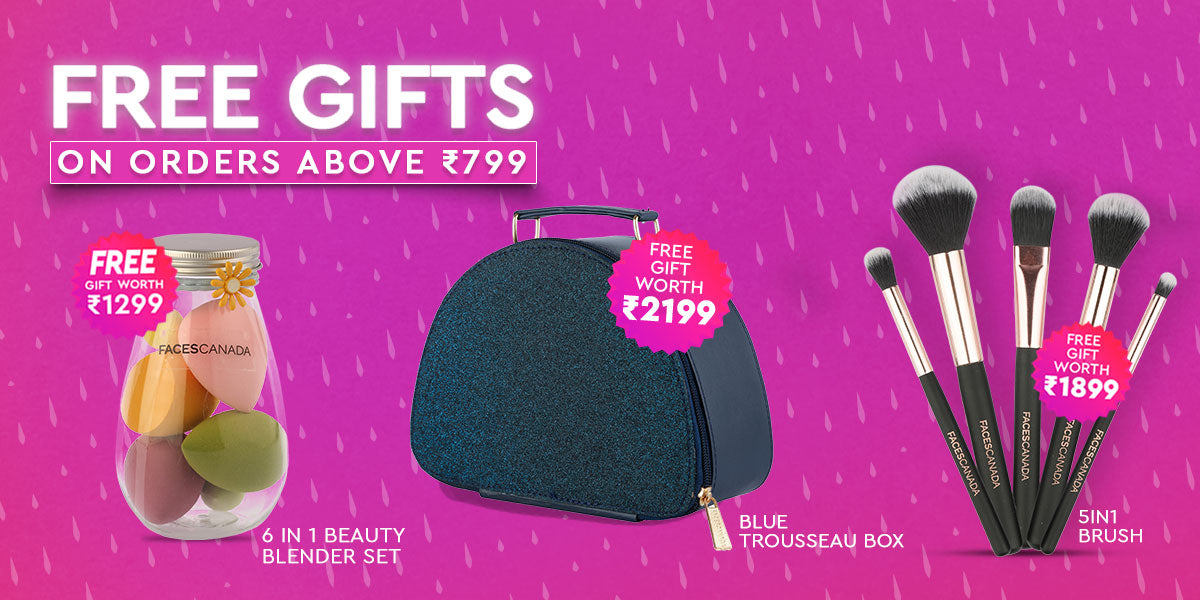 Low stock - 118 items left
Details
Our bestselling Pink Aloe Vera Skincare range now introduces a super lightweight face serum that is no less than a fairytale in a bottle! FACESCANADA Pink Aloe Vera Instant Hydration Face Serum is your go-to solution for dry and dull skin. Hydration is key to younger-looking skin. This biphasic serum is clear on the top and colored at the bottom. Pink Aloe Vera, a hydration expert is a long kept South Korean beauty secret.

This face serum is loaded with 2x power of hydration heroes like Hyaluronic acid and Vitamin E for healthy, glowing skin all day long. With Hyaluronic acid, give your skin the hydrating, plumping molecule it needs. It is not only a superstar at alleviating dry skin but also a warrior that combats all signs of ageing. Vitamin E locks in moisture to guard the skin's essential hydration. It makes the skin soft and supple yet shine-free.

The all-around solution for your daytime moisture needs is finally here. Hydrate your skin instantly and immensely anytime, anywhere!

The clean Cruelty-free and Vegan Serum will make your face glow with hydration and health.
1. Lightweight Serum: We understand that it is difficult to carry a trillion products as you conquer the day. FACESCANADA Pink Aloe Vera Instant Hydration Face Serum is a biphasic serum, curated with a technology that makes it super lightweight and non-sticky.
2. Instant Hydration: Hydration is key to youthful and radiant skin. This serum will transform your skin into supple glass skin making you fall in love with yourself all over again!
3. Hydration Heroes: Pink Aloe Vera, the South Korean Beauty Secret deeply hydrates the skin and nourishes it from within. Hyaluronic Acid is added to this serum to hydrate the deepest layers of your skin to give it an ethereal glow. It's time you started counting the reverse steps of ageing with Vitamin E adding to the magic.
4. Safe for Skin: The serum gently nourishes the skin and is formulated with extreme care. It is completely Cruelty-free and Vegan.
How To Use
1. Gently shake the bottle to mix the two phases of the biphasic Pink Aloe Vera Instant Hydration Face Serum.
2. Dispense a few drops of the serum and gently massage on the face until fully absorbed.
3. For best results, follow the routine with FACESCANADA Pink Aloe Vera Oil-Free Day Gel.
Aqua, Cyclopentasiloxane¸ Glycerin, Ethylhexyl Pelargonate, Helianthus Annuus (Sunflower) Seed Oil, Polyethylene Glycol 400 (PEG-8), Phenoxyethanol, Butylated Hydroxy Toluene, Sodium Hyaluronate¸Tocopheryl Acetate¸ Disodium Ethylenediaminetetraacetate¸ Aloe Cameronii, Glycerin, Phenoxy Ethanol (AND) Aqua, Fragrance, Triethanolamine, CI 16255
Name & Address of Manufacturer: Faces Canada 
Country of Origin:India
Net Qty. (g/ml): 27 gm
Free Product with Purchase
This offer is eligible only for sitewide discounts. It cannot be clubbed with Kits & Combos etc
Your order is only eligible for a free product with purchase on a minimum stated order (post-discount) while stocks last
The free product offer will pop-up on your cart page. Please add to cart when offer is presented. If the free product is not reflected in your cart then it has not been added to your order
Your order is only eligible for  one free gift per order (whichever is the larger gift offer)
Different free products will be available to you based on order value

Free Gift with Purchase
This offer is eligible only for sitewide discounts. It cannot be clubbed with any other coupon codes from Gpay/PhonePe/Paytm, etc
Your order is only eligible for a free gift with purchase on a minimum stated order value (post-discount)
The free gift offer will pop-up on your cart page. Please add to cart when offer is presented. If the free gift is not reflected in your cart then it has not been added to your order
This offer is valid only while stocks last
Rs.400 Off on your first purchase
This offer cannot be clubbed with any other offer or discount
The offer is valid on all products
The discount will be applied only on using the coupon code 'HELLO'
The discount is valid on a minimum order value of Rs.1299
The discount is valid on first purchase only
No questions asked returns
This is valid only if it is explicitly mentioned on the product page
Valid if return request is raised within 48 hrs of purchase
Company reserves all rights to withdraw any ongoing offer and/or promotion without prior notice
Cash on delivery available for 22k+ pincodes
Hassle free returns within 48hrs
Usually ships within 1-2 business days
100% Original Products